Meet the Designer
Terry Hanover
Furniture designer, Terry Hanover, is a master woodworker, hand carver, leaded glass artist, and co-owner of Center of the World.
Over the past 40 years, Terry has built a solid reputation for designing and creating heirloom quality furniture in the Craftsman tradition. When he creates a piece of furniture, it's a hands-on affair, from details such as hand-cut dovetails, leaded glass, inlays, tiles and hand carving, to hardwoods carefully selected to showcase their natural beauty.
"Wood has a warmth and beauty that can't be equaled," Terry says. "My job is simply to enhance the natural beauty it already possesses."
Terry works with clients around the country, developing solutions for particular needs, and bringing ideas to life.
Contact us to make an appointment with Terry.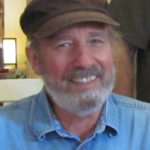 Terry Hanover, furniture/cabinetry designer and co-owner
Original Designs by Terry