​Stag Run Mahogany Outdoor Chair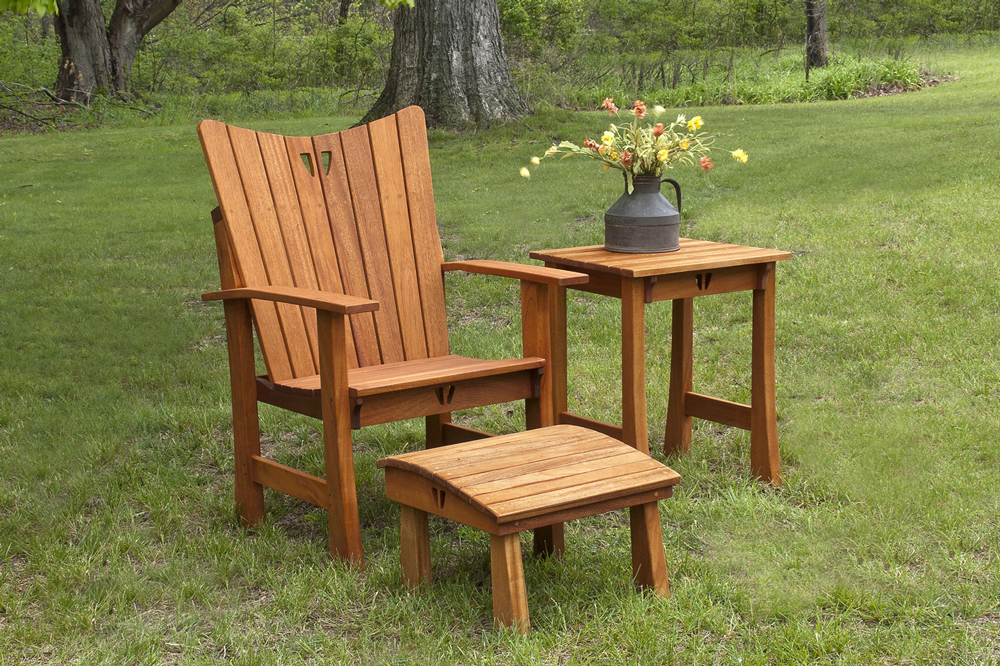 Put a stop to buying new outdoor furniture every few years! This solid mahogany chair features the Old World technique of pinned mortise & tenon joinery.

Mahogany is weather-resistant and rot-resistant — at about 1/3 the cost of teak (it's used in boat building for a reason). In fact, once they've aged, you'd be hard pressed to tell the difference between the two woods. Both turn a soft, silvery grey.
This chair will withstand decades of outdoor use.
Specifications:
• Signature Stag Run cutouts on back and skirt
• Back is curved and angled for ultimate comfort
• Seat curved for comfort
• Arms generous enough to accommodate your glass or mug
• Solid African mahogany
• Width: 28 in.
• Depth: 28 in.
• Height: 41 in.

Available unfinished, painted, or stained.
THE STORY BEHIND THIS CHAIR:
Terry built his first mahogany chair in 1985, patterned after an Adirondack he found in his grandmother's basement. Instead of nailing his chair together, as the original chair had been, he screwed and plugged the joints. We still use two of those chairs in our garden. Never having seen a coat of sealer, they are now silvery-grey, but otherwise have weathered the years in fine condition.
Like his Adirondacks, Terry's Stag Run line of outdoor furniture is made with African mahogany. But for his Stag Run line, he incorporated the Old World technique of pinned mortise and tenon joinery, and made the chairs easier to get in and out of.