---
Small Business Saturday Sale
Get away from the crowds! Take a drive in the country to the Center of the World on Saturday, November 25. We'll have markdowns throughout the Showroom, and complimentary refreshments on hand. 11:00 a.m. to 4:00 p.m. Eastern time.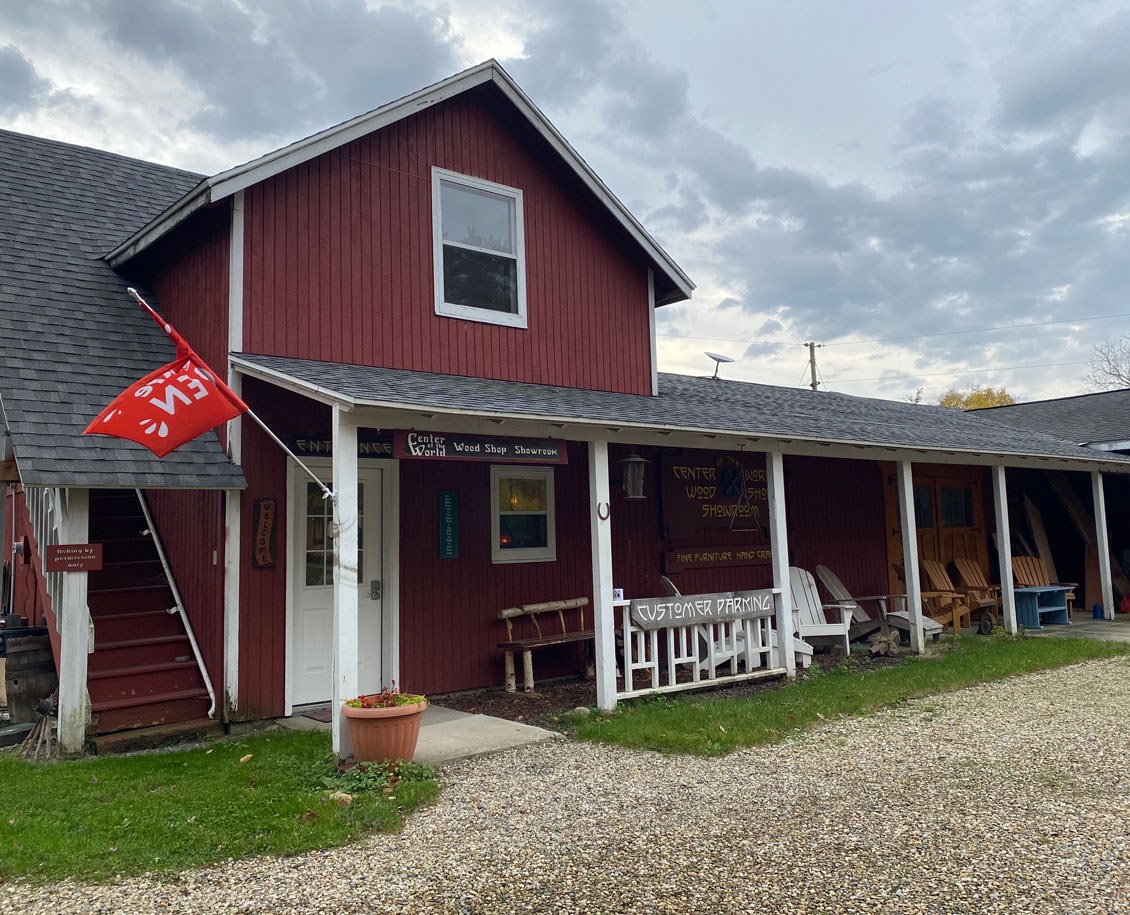 We've moved!
Our showroom is now located at 4102 Hanover Rd., New Troy, MI 49119.
The showroom is now adjacent to our woodworking shop, which has been located on property occupied by Terry's family for six generations. Overlooking ponds and woods at the end of Hanover Road, it's an inspiring and tranquil place.
In addition to viewing our exclusive collection of furniture, visitors will have the opportunity to observe work in progress in the shop.
Why the move? Events of 2020 awakened in us a desire to simplify and focus on what's most important to us. With this simplification, we'll be able to dedicate even more attention to the custom work that makes your bespoke pieces special.
Our new showroom is open by appointment and by chance. To make an appointment, please Contact us. We're also happy to discuss your needs by telephone or email.
---
Community Service
In October 2023, Center of the World was once again a Gold-level sponsor of Run to the Center of the World, which raised more than $4,000 for the New Troy Community Center.

Over the past 17 years, owners Terry and Lorraine together with Center of the World staff, have volunteered hundreds of hours of service for the Community Center, which provides an under-privileged community with a multitude of services: lending library, activities room with games, free food pantry, story hour, Little Free Library, pickleball, yoga, local history museum, playground, demonstration rain garden, winter coat drive, visits with Santa, free adult enrichment programs, and much more.
Owned, maintained and operated by the non-profit organization, Friends of New Troy, the Center receives no tax dollars, but has been supported since 2007 by fundraisers, donations, membership fees, and more recently, grants.

In 2019, Terry and Lorraine joined forces with Rotarian David Stevenson to write grants to rehab the Center's four restrooms. Built in 1962 as an elementary school, the Center's bathrooms had never been upgraded. Four grants came through, multiple fundraisers were held, and the bathroom rehab was completed in the spring/summer of 2020.