About Us
In 1976, Terry Hanover and Lorraine Oman married, forming a creative team that thrives to this day. Center of the World Woodshop was their first joint project.
Located in downtown New Troy, the shop's name was inspired by town's old Center of the World General Store, which functioned from 1860 until 1970. That store's owner was first and foremost a merchant, but he also liked to discuss philosophy as he whittled on the porch of his store. His customers knew whether they were searching for a sack of nails or the meaning of life, they could find what they wanted at Center of the World.
Our Center of the World began as a combination woodshop, woodcarving school, and store — all located in one room. In those days, Terry built every piece of furniture himself, and Lorraine did all the hand-rubbed finishes.
Our current shop, built by Terry on the outskirts of New Troy in 1983, is surrounded by the hardwood trees that inspire his work. Today, Terry designs and creates his heirloom quality furniture and cabinetry with the assistance of Phil Mielke and Don Harvey, both dedicated craftsmen. But Terry's personal touch is on every piece that leaves the shop.
In 1995, we moved our showroom to its current location on Red Arrow Highway. Since then, Lorraine has assembled a rich collection of locally handmade furniture, lamps, carpets, and other home accessories, with a focus on the Arts & Crafts and Craftsman styles. She and her assistant, Serena Wolfe, are always happy to assist customers — and show off the most recent creations emerging from Center of the World Woodshop.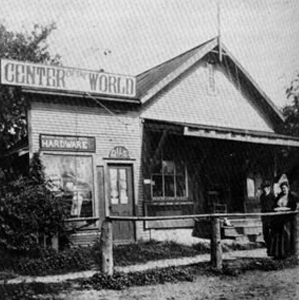 Hosea Tirrel and his wife outside the original Center of the World, which was a general store.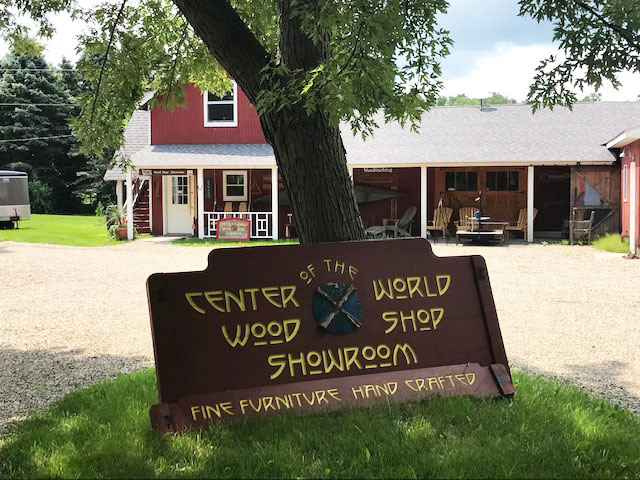 Center of the World Woodshop Showroom today